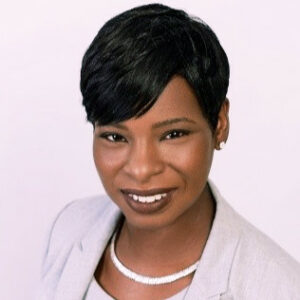 Ebony Miller is the Swiss Army knife of professionals. She's a leader in the financial industry, a veteran, an elected official, and when she's not doing that, she helps others gain confidence through her etiquette classes. Throughout her impressive career, Ebony has overcome many obstacles to become a trusted, valuable partner in risk management and compliance. Ebony is the Vice President and Compliance Group Manager for Huntington National Bank, which is headquartered in Ohio. She's also the Company Commander for a U.S. Army Reserve Psychological Operations (PSYOP) unit. In addition, she's serving her second term as Councilwoman for Maple Heights, Ohio.
Thinking Risk
Ebony was drawn to Huntington Bank's friendly, customer-centric focus, which is exhibited in everything they do. This helps guide her daily approach to risk management and compliance. She sees assessing and reducing risk as a team effort. When the bank launches a new product or service, she is called in to be part of the decision-making process. Risk is monitored across every step of the new project, ensuring compliance with laws and regulations in a proactive, comprehensive way.
Establishing trust is a critical part of Ebony's job. One of her biggest challenges is managing up. Her position requires her to establish a level of authority to get people to listen and take her seriously.  She often works with senior leadership and must routinely prove herself and demonstrate how she adds value to their organization. Remaining consistent in her approach with proven success makes her a trusted partner.
Having Tough Conversations
As a Compliance Manager, Ebony is often the one to share difficult news with an organization. She overcomes this by leading with facts. She presents the organization with the citation first and outlines potential consequences if the risk is not addressed. "People can't argue with what's in writing," she says. This opens an opportunity to educate others on how to become compliant. Providing clear communication helps combat resistance. "People don't like to assume undue risk. Sometimes it's that they don't know or understand it, not that they don't want to fix it."
An addition to her role at Huntington, Ebony is also a Company Commander in the U.S. Army Reserve. Recently, she became the first African-American woman to command a PSYOP unit. She has to routinely face the challenge of establishing her authority within the organization and has seen success through consistency and a strong resolve.
What's Next
Ebony has worked in banking for 19 years, but she's looking toward her next opportunity to expand in the field. She has managed every part of the compliance field with the exception of trust and financial services compliance, which is something she seeks to pursue in the future. As far as the future of the banking industry, financial services are in a deregulation period. In prior years, compliance management was a rapidly growing field, but has since been in a steady holding pattern. According to Ebony, one of the main focuses of the present financial industry is managing the downsides. "Interest rate risk is top of mind right now," she says.
When asked what she would do every day for the rest of her life, she was quick to answer, "teach etiquette classes." In her spare time, Ebony conducts etiquette classes for both individuals and corporations. She sees this as a way to give people an edge over the competition. Learning these skills helps people gain confidence and reach a higher level of professionalism. It is clear Ebony brings her high caliber work ethic to all she pursues.