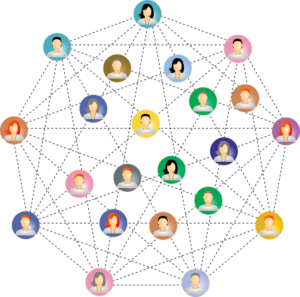 In 2014, a four alarm fire leveled an entire block of businesses in the quaint town of Garrettsville, Ohio. The community came together in the aftermath to raise funds and provide support, but the financial and physical losses have had a devastating impact. Businesses unaffected by the blaze saw a reduction in foot traffic. One business owner lost all the tools and materials necessary for his services and did not reopen. After over five years, the corner occupying a third of Main Street has not been rebuilt.
Most organizations do a great job assessing the risks within their own internal ecosystem, but do not always think about how a risk event outside the organization might impact the health, prosperity, and economic welfare of their business. To become more risk resilient, expand your network to include your community in addressing and reducing risk.
Build a Coalition of Trust
About 3 in 10 people say they do not trust others. The lack of trust changes the way people interact and affects our wellbeing. Risk events do not occur in isolation but have the potential to spill over into the surrounding community, whether that's a financial, physical, digital, or reputational impact.
Take time to meet the people operating the businesses around yours. Get to know their needs and concerns and examine how they relate to your own. You may discover overlaps or gaps you can fulfil. Other businesses may be knowledgeable and aware of risks you have not thought of. Through these relationships, your organization can build reliable, reciprocal partnerships.
Related Reading: The Human Element
Risk is Local
Each community has unique risks, and no two localities are the same. It can be overwhelming to prioritize risks ranging from local to global. Start small and where you are. Community forums are an excellent way to network with regulatory agents, elected officials, advocacy groups, public entities, educational institutions, and nonprofits. Neighboring businesses may also have access to special interest groups and industries you may benefit from.
Making connections can help you identify risks and create a strategy to reduce them through the relationships you have established within your community. Other businesses may be governed by regulations or agencies in ways that guide their decision making process. Review agencies and guidelines to identify potential conflicts between the way your businesses are required to respond to and mitigate risks. Your community business may have also used the services of a company within your supply chain and can provide valuable recommendations and feedback.
Related Reading: Branch Out and Brainstorm
Share Resources
Each organization has strengths and capabilities. Evaluate shared resources between organizations in your community. Plan how you can support one another in the case of an event. Do they have a workspace if there is a business disruption? Can your organization provide services to close the gap in an emerging risk in another business? Provide opportunities to learn from one another through training and educational sessions. The duration of a risk event changes how organizations respond, so create plans for both the short- and long-term time frame. As technology becomes part of an organization's operations, pilot programs and other testing opportunities can provide exposure to new tools.
Related Reading: Pilot Purgatory
Review and Reconnect
Take time to meet regularly with business owners in your area to discuss and collaborate. Nominate those with enthusiasm and strong communication skills as change agents who work toward shared objectives. Identify the stakeholders who make decisions on behalf of the organization and include them in your meetings. Extend the invitation to engage with residents in the community, who can provide critical, unbiased reviews of your approach and help you brainstorm ideas.
Related Reading: Evaluating the Effectiveness of Change
If you want to grow your community's risk resilience and don't know where to begin, The Marco Program is a one-hour discussion based program designed to get diverse groups talking. The Empowering Employers series features topics impacting workplaces and employees. We love talking about risk, so get in touch with us today!