Implementing Change
When implementing a change in an organization, employee resistance and training effectiveness are two key indicators to measure. As organizations expand to a global market, the need for a competitive edge is necessary for success. Training has become one of the resources that organizations must develop and incorporate in order to maintain high levels of performance. Through training evaluation, organizations can ensure that their programs are consistent and relevant to their area of interest. A resistance analysis and reaction evaluation are important to measure when refining training programs.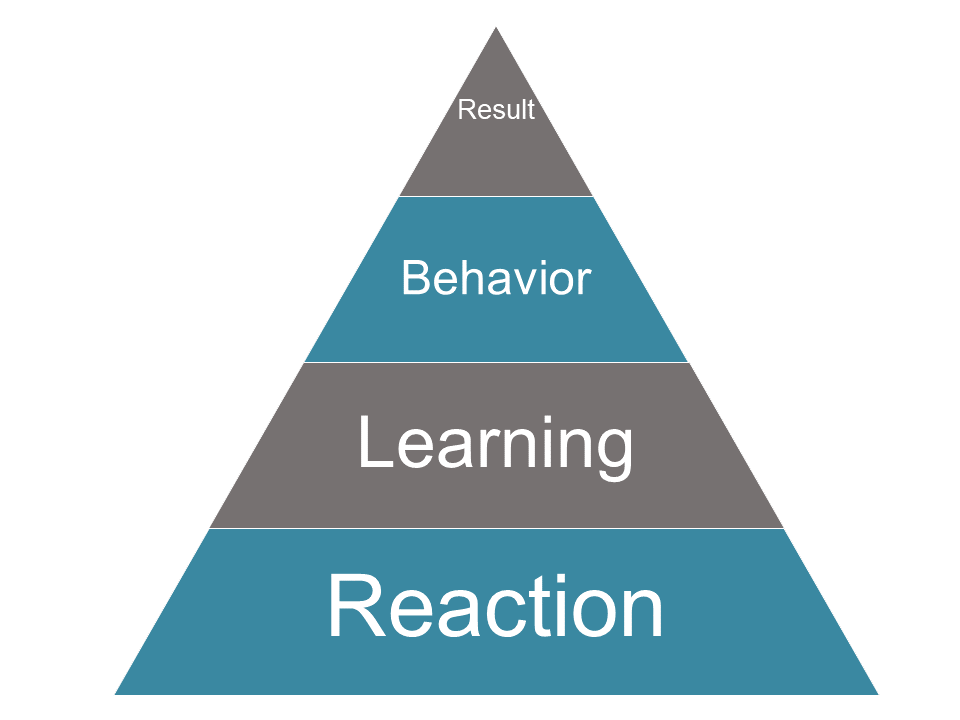 Training Evaluation
A training evaluation is the process by which training programs are assessed to determine if they are correctly aligned and achieving organizational goals. This is done is done through a two-part process. First, review the training program while the program is being implemented. Second, analyze the training program after it is complete. Kirkpatrick's Model has been the primary go-to for training evaluations. The model emphasizes four components of analysis as shown in the picture on the left.
Resistance & Reactions
Resistance analysis was originally incorporated by General Electric. The Change Acceleration Model is designed to help drive change in large organizations. A component of the model is resistance analysis. Resistance analysis is the measurement of resistance when attempting to implement change into an organization.
Reaction analyses collect data mostly through questionnaires designed to measure how trainees perceive the training program.
Both components contribute to how organizations conduct training evaluation. Each serves their own purpose in determining if a training program is effective in its ability to achieve an organization's goals. The Change Acceleration Process (CAP) model serves as a foundation for companies wanting to incorporate resistance analysis to their training evaluation.
If you would like to measure your team's effectiveness, the Marco Program can get you started! Our 1-hour, discussion based programs measure intra-team trust, communication, and leadership skills while allowing employees to determine how to take action to make improvements. Our Empowering Employers series covers relevant topics affecting today's workplaces. To get started, give us a call or contact us at info@criticalops.com. We can't wait to chat with you!
Author: Trey Gonzales, Critical Ops Intern