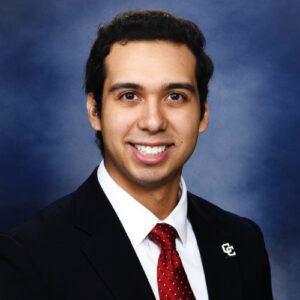 Every artist takes a risk when they share their work with the world. It isn't always easy for artists to gauge when to take the next step or who to trust with their projects. But for Trey Gonzalez, Critical Ops intern and master's student, applying risk management principles is a helpful way to guide him in his academic pursuits, as well as his burgeoning music career. Trey is not only studying to complete his degree in Industrial and Organizational Psychology at Texas A&M University, you can also find him performing country music at various venues around San Antonio. Maintaining both passions is a challenge, but his experience in the classroom has influenced his careful approach to music, his academic career, and his life.
Assembling Trusted Teammates
One of Trey's most valuable assets is the team with which he surrounds himself. His primary foundation of support comes from his parents, but he recently expanded his music team to include a photographer, videographer, radio promoter, and production crew. To ensure he was slotting the best people into the right positions, he stood up a selection process to vet prospects. He reviewed their experience in the business, their track records, technical knowledge, and the breadth of their network. In addition, he needed teammates who could capture his style while remaining true to his vision as an artist. Through his rigorous criteria, he assembled a team comprised of both colleagues and friends.
Making Moves
It's hard to quantify what risk means in the music industry. According to Trey, "Every move is medium to high risk." In order to go advance his career, Trey needed to create more original music, a brand, and an image that projected his artistic personality. He established benchmarks as a measurement of success and marked off accomplishments as he met milestones. As he transitioned from a dance hall artist to an original artist, he identified gaps he needed to fill to push himself to the next level. By strategically investing resources he could maintain the momentum within his financial means.
Volatility in the Creative Space
Trends are a sensitive experience for music fans, who are accustomed to particular sounds while also gravitating toward the next new thing. Trey uses his knowledge of emerging trends from a risk management standpoint to help with writing and production. "As a musician and a small business owner, I have to predict which direction the music industry is going." The advent of streaming services has resulted in artists making less money than in the past. Sites like Pandora, Spotify, and YouTube allow individuals to listen to music without owning it and artists only get a fraction of a cent for each stream. Trey funds every aspect of his career, so he must produce good music and make sure people are enjoying it enough to want to see him perform live.
Assessing the Competition
The music industry is a competitive arena, and country artists in Texas must operate in a hierarchy of performance opportunities. Trey analyzed what artists on the next tier were doing and if it was working. By looking at the group of artists as a whole, he could decide where to invest his energy. "To develop a song that doesn't have return is a risky moment," says Trey. "Music is subjective and there isn't a lot of gray area." Trey uses that knowledge to refine his approach while being mindful that not all audiences will be receptive.
What's on the Horizon
After the completion of his summer internship at Critical Ops, Trey will return school to finish his education. He takes with him the experiences he had applying and implementing academically sound risk management in the real world. Trey was inspired to set up a weekly goal-setting accountability session with his colleagues as he begins the next semester. "Critical Ops not only had best practices," he says, "but a healthy and beautiful standard of what the work environment should be like." We'd like to thank Trey for his hard work and for making a wonderful addition to the Critical Ops team.
To learn more about Trey's music, you can visit his website. You can also connect with him on LinkedIn.