Anyone can see that the world of work is transforming before us. In the face of crisis, we are shifting into a remote era of new worker autonomy and ingenuity so often idealized and romanticized in the ambitious mind. But with this fascinating move comes questions and concerns of its own. With workforces more separated and independent than ever before, how do we effectively train them? Failing to adapt training methods to match the remote work environments we find ourselves in today is a major process risk and disruption to any organization. But, while many may recognize this, not everyone is sold on the effectiveness of online training or perhaps are unsure on how best to implement it. 
Is Online Learning Effective?
Yes! No need to dance around this subject. Online learning has been observed to be just as effective as face-to-face learning in multiple studies and some have even observed it as being superior. While it is worth noting that online learning is most effective for learning that revolves around recalling new information or novel motor skills and procedures, it can be implemented for close to anything. Online learning also has unique advantages. Not only does online training implementation allow for more dynamic learning opportunities and more flexibility in the time the learner experiences it, but it also gives learners more control over their experiences. We've all needed to rewind an instructional video in order to repeat something we didn't understand, but this isn't possible in face-to-face interactions. 
You might say, "But wait! You can raise your hand and ask a question, that's basically the same thing," and from a surface level analysis you would be right, but this brings up another advantage of online learning. While face-to-face learning is typically done in group settings to maximize time and efficiency, online learning is often experienced via prerecorded videos/podcasts, more interactive mediums, and will encourage active learners to set up more one-on-one sessions with proctors and experts. This removes a significant amount of anxiety from the learner that normally would manifest in group learning sessions that we often tend to ignore and would prevent individuals from asking important questions.[1]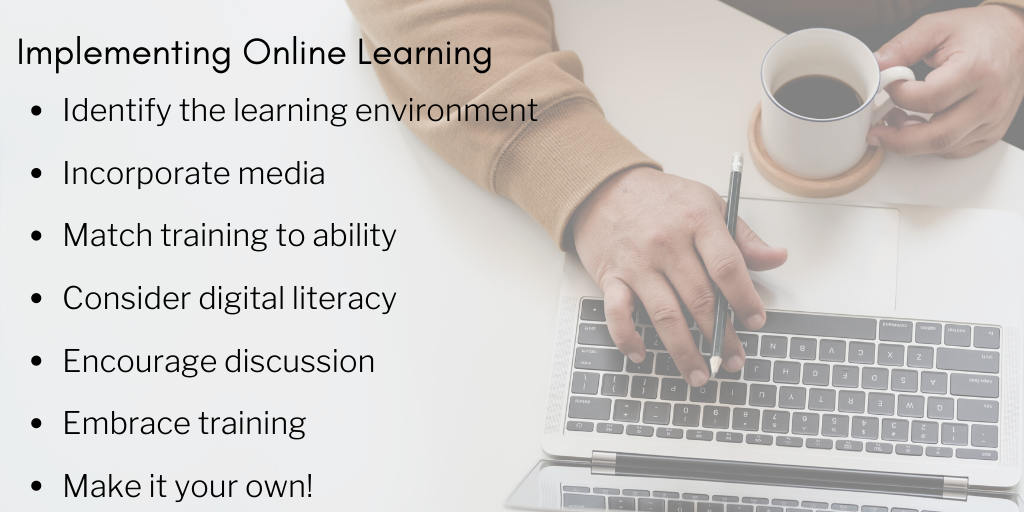 Implementing Online Learning
There are many sites and organizations that offer software and courses for online learning opportunities; some might even say too many. Online learning is typically cheaper to develop and implement than face-to-face but finding the right learning program for your organization can sometimes be a daunting task. To help sift through your choices, here are some helpful guidelines: 
Identify whether you would prefer a 

s

imultaneous 

learning 

environment

 for your employees

 or one that allows trainees to learn independently and on their own time. I

f your 

organization has a good communication culture and workers are comfortable with one another

, 

using

 a

 more flexible and independent 

program 

and trusting your employees to reach out to one another when necessary

is beneficial.

 

The more media incorporated the more versatile the experience, so while many people enjoy podcasts

,

 using 

solely

audio content is not advisable.

 

Ensure that the technical level of your online training does not exceed the digital 

ability or confidence

of your trainees. It may be necessary to have some digital literacy training prior to your primary training.

 

Look for courses with chat rooms and discussion boards to help encourage group discussions and questions.

 

If possible, test the training yourself or with other managers. Training is more effective when supported and embraced by management.

If all else fails, 

make your own!
Design Your Own Training
Designing your own training can sometimes be the most beneficial to your goals. While this will take some time to develop, it allows for training more personalized to company motivations, a greater level of commitment from management, and allows for a program that can be updated as the need arises. If you have the resources, time, and bandwidth building a program in house is a wonderful solution, but keep these things in mind as you evaluate it:
How are trainees reacting to the program?
Do they feel they are effectively learning new skills?
If so, do they believe these new skills directly transfer to their work?
What tangible results outcomes can we see after training? (product quality, lower spending, etc.)
Keep these in mind and over time you will develop a quality training tool for online use.
One last important note. If you want to implement online training you may come across this resistance: "That's just not my learning style, I don't think it would work." Learning styles are just a myth.[2] Online training is a valuable and adaptive step forward that everyone can benefit from when utilized properly.
Sources:
1. Noe, R. A. (2020). Employee Training and Development. New York, NY: McGraw-Hill Education. 
2. Nancekivell, S. E., Shah, P., & Gelman, S. A. (2020). Maybe they're born with it, or maybe it's experience: Toward a deeper understanding of the learning style myth. Journal of Educational Psychology, 112(2), 221-235. doi:10.1037/edu0000366 
Author: James Lovett, Critical Ops Intern