Federal Aviation Administration
Master Ordering Agreement Award
Westlake, Ohio., April 7, 2022 – Critical Ops, LLC was awarded a Master Ordering Agreement (MOA) under the Electronic Federal Aviation Administration (FAA) Accelerated and Simplified Tasks (eFAST) contracting vehicle. The combined total ceiling amount for all MOAs under eFAST for the entire 20-year period of performance (2010-2029) is $7.4 billion. The best news is that individual contracts and task orders that Critical Ops is authorized to pursue have no ceiling limits. We will contribute under the Air Transportation Support Functional Area, providing major support systems, technical analysis, professional services, and management expertise for the FAA.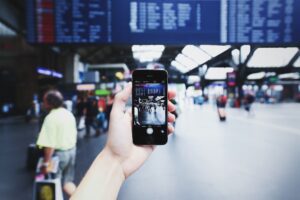 Chelsea Treboniak, President of Critical Ops, said, "The eFAST MOA is a great opportunity. We will continue emphasizing modernization and the three distinct roles people, processes, and technology play within the transportation system." Recently, we completed a Transportation Research Board synthesis for airport software solutions and services sourcing. The focus on procurement practices, the essential role of Information Technology (IT) in the process, and innovative approaches to traditional techniques equip practitioners with valuable insights from their peers. Publication of this synthesis is expected later this year.
Our involvement in the critical infrastructure community has been a strategic objective and the eFAST MOA was one of our key targets. Additionally, we focus on making commercial companies that support the critical infrastructure sector smarter and more secure through automation and IT improvements. Now, with this MOA, we can create value for the Airport community on the government and commercial sides; a win-win. 
Equally rewarding is the volunteer space, where Critical Ops actively contributes to critical infrastructure. Efforts include serving as an Airport Cooperative Research Program Ambassador, a member of the Board of Directors for the Northern Ohio InfraGard Members Alliance, and contributing to numerous committees empowering the future of critical infrastructure. 
Critical Ops, LLC provides business modernization services that balance the government and commercial sectors' people, processes, and technology. Led by Chelsea Treboniak (USMA' 06), we are committed to discovering opportunities to blend the human element with technology effectively. To meet this goal, we encourage diversity in thought and collaboration to solve problems big and small. Established in 2012, we are Small Business Administration (SBA) certified Woman-Owned Small Business, a Veteran Affairs certified Service-Disabled Veteran-Owned Small Business, and an Ohio DoT certified Disadvantaged Business Enterprise.